The President of the Republic, His Excellency Paul BIYA joined African Union and European Union leaders in Abidjan – Côte d'Ivoire on 29 November 2017, for the opening ceremony of the 5th AU-EU Summit. Heads of State and Government (representing 55 African countries and 28 European countries), as well as other top international personalities were present at the Sofitel Abidjan Hotel Ivoire. The two-day conclave is holding under the theme: "Investing in youth for a sustainable future".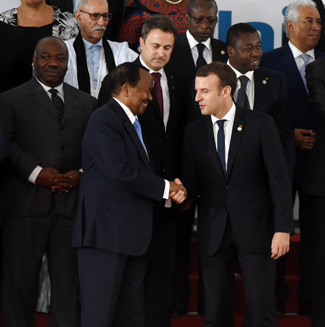 Key speakers addressed the future of Africa-EU relations while evoking the necessity to invest in Africa's youth. They also appealed for the strengthening of the strategic partnership between Africa and Europe. Among the speakers were the following: Professor Alpha Condé – current Chair of the AU and President of the Republic of Guinea; Antonio Guterres – UN Secretary General; Donald Tusk – President of the European Council; Moussa Faki Mahamat – Chairperson of the AU Commission; and Jean-Claude Juncker – President of the EU Commission.
In his welcome speech, the President of the Republic of Côte d'Ivoire, H.E. Alassane Ouattara advised young Africans to avoid the risk of illegal migration to Europe via the Mediterranean Sea. He said they could "improve their living conditions" on the African continent. President Ouattara also called on his peers to "make strong and innovative commitments", recalling that "60% of the population is under 25 years old". He also spoke about the "totally unacceptable" situation of migrants in Libya; "a despicable tragedy that reminds us of the worst hours in the history of humanity".
The in-camera sessions held after the opening ceremony focused on the following themes:
- Increasing economic opportunities for youth: invest in Africa's sustainable structural transformation - education and training towards the skills revolution (including climate change issues);
- Migration and Mobility;
- African Union-European Union Cooperation on Peace and Security.
In the evening, the President of the Republic, H.E. Paul BIYA, and his wife, Mrs. Chantal BIYA, attended a gala organised on the sidelines of the summit.